Home > Therapy > Yoga & Arthritis
Yoga & Arthritis (Osteoarthritis)
Dr. Ramesh Mantri (MBBS, MD Orthopaedic surgeon)
Introduction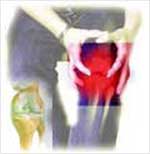 LIFE is MOVEMENT, and MOVEMENT is LIFE. Live movements takes place at joints. Arthritis hampers joint movement and disturbs normal life.

Osteoarthritis, the most common form of arthritis, is a deliberating progressive disease, affecting 20% of the population, principally the elderly.

The commonly affected joints are KNEES, HIPS, SPINE and SHOULDER.







CLINICAL MANIFESTATIONS are -
Joint Pain aggravated by use and relieved by rest.
Night Pains.
Stiffness of the Joints.
Swelling of the Joints.
Tenderness of the Joints.
Limited Movement of the Joints.
Wasting of Muscles around the Joints.
Movements of the Joints make crepitus.
There is Deformity of the Joint.
X – RAY CHANGES shows -
Narrowing of joint space.
Subchondral bone sclerosis.
Subchondral bone cysts.
Osteophytosis.
Deformed joint.
O.A. is also present with other diseases, like -
Rheumatoid Arthritis.
Infective Arthritis.
Trauma / Accident.
Gout.
Factors Leading To Arthritis are -
Overweight.
Lack of Exercises.
Excessively rich diet and fatty substance and overeating.
Modern Life (Sitting in chairs and working too long).
Mental Factors like TENSIONS, SUPRESSIONS OF EMOTIONS, FEAR,
HYPERSENSITIVITY.
MANAGEMENT and TREATMENT -
Painkillers like CROCIN, IBUPROFEN, DICLOFENAC SODIUM and NAPROXIN.
Steroids (ORAL or INSIDE THE JOINT).
GLUCOSAMINE and CHONDROITIN SULFATE.
Weight Loss and Exercises.
BRACING like KNEE CAPS and HINGES.
CANE in one hand or use of WALKER.
PARAMEDICAL TREATMENT -
S.W.D. or ULTRASOUND THEROPY.
Massage and Exercises.
Control of DIABETES and other diseases.
SURGERY OF ARTHRITIS -
Arthroscopic toileting of the joint.
High Tibial Osteotomy.
Joint Replacement.
Joint Fusion.
YOGIC APPROACH for ARTHRITIS -
Asana - VAJARASANA, PADMASANA, AKARNA DHANURASANA, MARJARASANA.
Hatha Yoga Kriyas - PURNA and LAGHU SHANKHAPRAKSHALANA, KUNJAL and NETI.
Pranayamas - NADISHODHAN and BHASTRIKA.
Meditation - Releases mental and emotional tensions, reduces arthritic rigidity.
DIET -
Cooked light grains and cereals.
Boiled pulses.
Boiled and baked vegetables.
Green Salads (TOMATO, BEET, CARROTS).
Fresh Fruits.
Reduce intake milk and dairy products.
REST AND EXERCISES
MENTAL ATTITUDE -
Think Positive.
Yoga Nidra.
Self Confidence.
Degeneration is LIFE, Regeneration is YOGA.