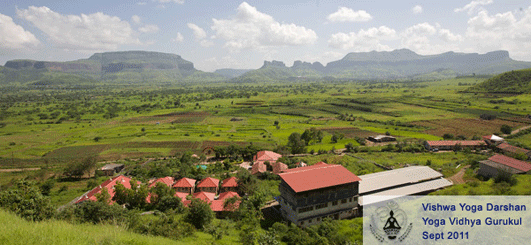 Chaitanya Meditation & Pranayama Course - Overview
Program Overview
Practical training in meditation and chakra sadhana, includes pratharaya, dhyana, dharana, mind purification, spiritual upliftment, mouna (silence) and guidelines for self practice of meditation.
Learning the practice of Havan and mantra/omkar chanting.

The theory will include understanding of yogic philosophy, philosophy of bhagvad gita and yoga sutra. Guidelines for behavioural change and lifestyle change for self development to evolve the meditation practice(also includes ethical and moral guidelines).

You will learn various methods of concentration and meditation, and advance practice of pranayama to control mind and body. Throughout the course students will follow mouna (silence) and will not communicate with anyone. The course also includes the practice of karma yoga for self purification.
Program Dates
| | | | |
| --- | --- | --- | --- |
| Date | Medium of Teaching | Venue | Admission |
| 30 Sep 2012 to 07 Oct 2012 | English | Vishwa Yoga Dharshan, India | Close |
| 06 Nov 2012 to 13 Nov 2012 | English | Vishwa Yoga Dharshan, India | Close |
Fees And Financial Information
| | |
| --- | --- |
| 1. | Registration fees - US $ 25 |
| 2. | Lodging & boarding charges + Course fees - by donation |
Fees can be paid with any of the following ways

1.

Cash Currency - USD $, Sterling £ , Euro €, Canadian Dollar, Singapore Dollar, Australian Dollar, Yen ¥ or
Indian Rupees Rs (INR)

2.

Travellers Cheques or Online payment with Credit Card or Debit card (Visa & Master Card)
Note - Foreign currency exchange is available at request.
Curriculum or Content of the Program
Lectures
Meditation in General
Pratyahara
Chidakash Dharana, Antaar Mouna & Mind Purification Sadhana
Witnessing Attitude
Mouna (silence) Sadhana
Philosophy of Bhagvad Geeta
Self Study Guidelines

Certificate, Recognition & Insurance
Diploma Course in Yoga Therapy (Diploma Certification program)
The Diploma program is recognized by Government of Maharashtra (Under Government of India).

Yoga Vidya Gurukul is affiliated to YCMOU (A Government of India University) to run the Diploma courses in Yoga.

Yoga Vidya Gurukul is 'University of Pune' recognized research institute.

Certification to the successful student entitles them to teach in any part of the world and can also be used to register with other organizations outside India.
Apply Online
Who Should Apply?
Healthy individuals (physically + mentally) with no experience of yoga. Minimum age is 18 years and the maximum age is 50 years. For students over the age of 50 a fitness certificate is necessary.

Yoga aspirants who want to learn the INDIAN TRADITIONAL YOGA & techniques to teach the same.

If you are expecting modified versions of physical exercises in the name of Yoga then this is not the school for you.

You should apply only if you are willing to follow the rules and regulations of the ashram.
Note - The culture in the ashram is different from a holiday resort or summer camp.
How to Register / How to Apply?
You can fill up the registration form by clicking the link next to the course date. If you can not find the form then please send email to yoga@yogapoint.com or yogapoint108@gmail.com . After acceptance of the form, you will be asked to pay a registration fee (Non refundable). The remaining fee can be deposited when the student comes for the course.

Note - If you do not receive any answer in 7 days, you may call on +91 9822770727


Contact Details
Office
The address of the course venue

Yoga Vidya Gurukul
village Talwade, Trimbak, Nasik
Maharashtra,India.

Address of Institute office in Nasik
Yoga Vidya Dham, Kaivalya Nagari,
College Road, Nashik - 422005.
Maharashtra, India.
Phone - +91-9822770727 (for courses in ENGLISH)
+91-253-2318090, 2575624, 2317454
(For courses, in HINDI or MARATHI)
(Please call during 9.00 AM to 5 PM Indian Time)
E-mail -
yvd@yogapoint.com,
yoga@yogapoint.com or
yogapoint108@gmail.com

Nasik city is 170 KM from Mumbai (formerly Bombay)

Nasik is about 1800 Ft or 580 Metres above sea level.

Regular Trains, Bus Service and Taxi services are available to reach Nasik. We can also provide an airport pickup service directly to our ashram. click for more details



Thailand

"Yoga Gita"
88/45 Soi Ramkumheang 118 Yaek 11,
Ramkumheang Road. , Saphansung ,
Bangkok 10510 Thailand.
Phone -+66 (0) 85 1420201, +66 (0) 2 3732718



Singapore

Yoga Connections
498 - A Changi Road,
Singapore - 419903
Web - http://www.yogaconnections.com.sg
Phone -+65 6243 9638, +65 9001 9669

Google Map


View Larger Map