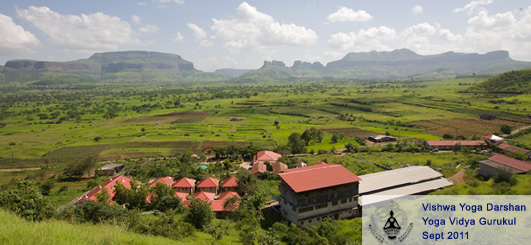 Program Overview
Course based on Ashtanga Yoga (Based on Patanjal Yoga Sutras) & Hatha Yoga (based on Hatha Yoga Pradipika) Advance
Practical Training in Asanas, Pranayama ,Mudra, Bandhas, Cleansing Processes & Meditation

Lectures (Hatha Yoga, Ashtanga Yoga (Yama, Niyama, Style of Asana, Pranayama, Pratyahara, Dharana, Dhyan & Samadhi, Yoga Sutras by Patanjali, Hatha Yoga Pradipika, Karma Yoga (Bhagavad Gita), Mantras etc.), Kundalini yoga, Bhakti yoga, Yoga philosophy, Yoga Lifestyle, Ayurveda, Pancha Karma, Kapha-Pitta-Vata Prakriti, Science of Mantra, Buddhism and Yoga, Yoga Psychology, Anatomy and Physiology of Yoga poses or asanas, pranayama & cleansing techniques

Program Dates
Fees And Financial Information
The fees for the Advance Diploma in Yoga in English at Ashram in India

1.

Lodging & boarding Charges - USD $ 800 or EURO € 720 or Pound Sterling £ 630

2.

Course fees - USD $ 300 or EURO € 270 or Pound Sterling £ 240
Including course material, syllabus books & other material)

3.

Registration fees - US $ 150 or EURO € 135 or Pound Sterling £ 120 (Registration fee is Non refundable)
Total Fees -USD $ 1250 (800 + 300 + 150) Other currencies like EURO € or Pound Sterling £ will be as per exchange rate of the day.
For Foreign Nationals only - On arrival the pick up from Mumbai airport to Nasik ashram is complimentary.
Total Fees for Indian citizens in Indian Rupees Rs 35000/-
** For fees of programs in singapore, thailand, bali, philippines and others, please contact yoga@yogapoint.com
Fees can be paid with any of the following ways

1.

Cash Currency - USD $, Sterling £ , Euro €, Canadian Dollar, Singapore Dollar, Australian Dollar, Yen ¥ or
Indian Rupees Rs (INR)

2.

Travellers Cheques or Online payment with Credit Card or Debit card (Visa & Master Card)
Note - Foreign currency exchange is available at request.
Curriculum or Content of the Program
Contents of the each course :
Advance Asana or Yoga poses
Yogasana (68 nos.)

Advance asanas from Hatha Yoga Tradition

Advance Techniques of practicing Asana as per Ashtana yoga (Based on Patanjali Yoga sutras), Body Mind Resonance technique, techniques to bring body and mind in harmony, advance technique include focusing on body parts, breath, chakras, nadis

Pranayama - Different Types of Pranayama as Ashtanga Yoga and Hatha yoga traditions with Kumbhaka (holding of breath or retention) & Bandhas (energy locks)

Hatha Yoga Pranayama - Nadi Shodhan & Eight types of Kumbhaka, 40 types of Pranayama techniques

Mudras - 10 Types of Mudras (Psychic Gestures as explained in Hatha Yoga Pradipika (including Mahamudra, Mahabandha, Mahavedha, Uddiyan, Jalandhar, Moola, Viprit Karani, Khechari)

Kriyas / Cleansing techniques - (optional) (Shat Karmas from Hatha Yoga Pradipika and Gherand Samhita)

| | |
| --- | --- |
| 1. | Neti (cleansing of nasal passage) - Jala neti (water), Sutra Neti (inserting sterilized rubber tube in nostrils and mouth) |
| 2. | Dhouti (cleansing of alimentary canal) - Vaman (with salty water), Danda (inserting sterlized rubber tube in to stomach through mouth), Vastra (eating 5 feet long cloth and performing Nouli / Uddiyan Bandha) Shankha Prakshalana (Master Cleansing) |
| 3. | Nouli (abdominal massage) |
| 4. | Tratak (concentrated gazing involving candle flame tratak) |
| 5. | Kapalbhati (frontal lobe cleansing) |
| | (Note - These cleansing techniques are optional...) |

Meditation - Prana Meditation, Chakra Meditation, Kundalini Meditation, Tattwa Shuddhi (tantric practice of inner purification) and other types of dynamic meditations.

Silence - Silence is observed during meals, mornings, and 6 days of complete silence.

Karma Yoga - Practice of Karma Yoga in the ashram is part of the daily schedule.
Daily Schedule
| | |
| --- | --- |
| 05:00 am | WAKEUP TIME |
| 05:45 am - 06:00 am | Mantra Chanting |
| 06:00 am - 08:00 am | Yoga Practice (Asana & Cleansing) |
| 08:00 am to 09:00 am | Karma Yoga (Selfless Service) |
| 09:00 am to 09:30 am | Breakfast |
| 10:15 am to 11:00 am | Yoga Nidra / Theory Lecture I |
| 11:15 am to 12:00 pm | Theory Lecture II |
| 12:15 am to 01:00 pm | LUNCH |
| 01:00 pm to 03:00 pm | Resting Time (Self Study) |
| 02:30 pm to 03:00 pm | Patanjali Yoga Sutras (Ashtanga Yoga Text) |
| 03:15 pm to 04:00 pm | Karma Yoga |
| 04:15 pm to 05:00 pm | Pranayam |
| 05.00 pm to 06.00 pm | Asanas / Mudras |
| 06:45 pm to 07:25 pm | Mantra Chanting / Meditation |
| 07.30 pm to 08:00 pm | DINNER |
| 08:15 pm to 09:00 pm | Sanskrit Training / Meditation / Yoga Songs (Bhajans) / Group Discussions / Question Answer Sessions / Satsangs / Self Study. |
| 10.00 pm | Bed Time |

Certificate, Recognition & Insurance
The program is recognized by the Indian Government (Government of Maharashtra).

Yoga Vidya Gurukul is affiliated to YCMOU (A Government of India University) to run the Diploma courses in Yoga.

Yoga Vidya Gurukul is recognized as Yoga & Yoga therapy research organization by University of Pune (A Government of India University).

Certification to the successful student entitles them to teach in any part of the world.

Many insurance companies all over the world have been providing liability & professional indemnity insurance to our students who complete the Yoga teacher training program, as the student becomes a member of Yogapoint teacher association of Yoga Vidya Gurukul after completing the course. There is NO extra membership fee for becoming the member. Currently (as on June 2012) Yogapoint teacher association has more than 2150 teachers out of india and more than 16000 teachers in India.

Apply Online
Who Should Apply?
Healthy individuals (physically + mentally) with no experience of yoga. Minimum age is 18 years and the maximum age is 50 years. For students over the age of 50 a fitness certificate is necessary.
This course is NOT for someone who is looking for Yoga Holidays or just some Asana practice. This is a full time course for understanding the Yoga Lifestyle & yourself.
Yoga practitioners who have been doing yoga and want to deepen self practice..
Yoga aspirants who want to learn the INDIAN TRADITIONAL YOGA.
If you are expecting modified versions of physical exercises in the name of Yoga then this is not the school for you.
You should apply only if you are willing to follow the rules and regulations of the ashram.

Note - The culture in the ashram is different from a holiday resort or summer camp.
How to Register / How to Apply?
You can fill up the registration form by clicking the link next to the course date. If you can not find the form then please send email to yoga@yogapoint.com or yogapoint108@gmail.com . After acceptance of the form, you will be asked to pay a registration fee (Non refundable). The remaining fee can be deposited when the student comes for the course.

Note - If you do not receive any answer in 7 days, you may call on +91 9822770727


Yoga Vidya Gurukul
Yoga Vidya Gurukul was founded in 1978 by Yogacharya Vishwas Mandlik and since then we are functioning as a non-profit organization. We are inspired and guided by our spiritual master Swami Satyananda of Bihar school of yoga. We are present in most of the states (Maharashtra, Goa, Karnataka, Assam and Madhya Pradesh) in India with our Centers and branches. We have recognized centers to conduct Teacher Training Courses in Thailand and Singapore.
We have more than 15000 yoga teachers in India and approximately 2000 yoga teachers abroad, as well as more than 300,000 yoga students. We conduct various courses in yoga:
Basic 7 day courses
Regular courses for beginners
Intermediate and advance practitioners
Specific courses like pregnancy, yoga for children, yoga for weight loss, yoga for back pain as well as different levels of yoga courses
Various Yoga therapy courses and treatment courses for diseases such as back problems, sciatica, slipped disc, diabetes, hypertension, heart problems, digestive diseases, gynecological problems, arthritis, multiple sclerosis, cancer, anxiety, depression and many more health conditions.
We teach different types of yoga such as Ashtanga yoga, hatha yoga, karma yoga, bhakti yoga, jnana yoga, tantras, yoga philosophy, asana, pranayama, cleansing and so on.
This Spiritual tradition was founded by Adi Shankaracharya (Yoga Master and Guru). This great tradition was introduced by Swami Sivananda in 19th and 20th century, Swami Satyananda is the disciple of Swami Sivananda. Swami Niranjananda is the successor of Swami Satyananda and is our inspiration and guru. We follow him and teach Indian Traditional Yoga, which is a synthesis of Ashtanga Yoga, Hatha Yoga, Karma yoga, Bhakti Yoga, Jnana Yoga and is based on ancient texts of Patanjali's Yoga Sutras (Ashtanga), Hatha Yoga Pradipika, Gherand Samhita, Bhagvad Gita, Upnishadas, Vedas and Tantra.
Aims and objectives of Yoga Vidya Gurukul
To spread yoga in its true form for helping all of society, without barriers.
To promote the yogic way of life and healthy lifestyle in tune with nature.
To help those in need as 'Seva' the selfless service.


Contact Details
Office
The address of the course venue

Yoga Vidya Gurukul
village Talwade, Trimbak, Nasik
Maharashtra,India.

Address of Institute office in Nasik
Yoga Vidya Dham, Kaivalya Nagari,
College Road, Nashik - 422005.
Maharashtra, India.
Phone - +91-9822770727 (for courses in ENGLISH)
(Please call during 9.00 AM to 5 PM Indian Time)

E-mail - yvd@yogapoint.com, yoga@yogapoint.co or yogapoint108@gmail.com

Nasik city is 170 KM from Mumbai (formerly Bombay)

Nasik is about 1800 Ft or 580 Metres above sea level.

Regular Trains, Bus Service and Taxi services are available to reach Nasik. We can also provide an airport pickup service directly to our ashram. click for more details



Thailand

"Yoga Gita"
88/45 Soi Ramkumheang 118 Yaek 11,
Ramkumheang Road. , Saphansung ,
Bangkok 10510 Thailand.
Phone -+66 (0) 85 1420201, +66 (0) 2 3732718



Singapore

Yoga Connections
498 - A Changi Road,
Singapore - 419903
Web - http://www.yogaconnections.com.sg
Phone -+65 6243 9638, +65 9001 9669

Google Map


View Larger Map