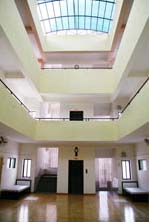 Pichey Phipson Yoga Center (Yoga, Ayurveda & Naturopathy)
Program Overview
Yoga Retreat & Yoga Therapy Center
Yoga Vidya Gurukul conducts 10 Day Yoga Course & 10 Day Treatment course. These includes practices of Asanas (Postures), Pranayama (Breathing exercises), Cleansing techniques, Ayurvedic Body Massage, Shirodhara and other Ayurveda & Naturopathy treatments are given to patients suffering from various physical & mental disorders.
Yoga Retreat & Yoga Therapy Center - Best way to treat your Diseases. We give you the personalized / customized guidance depending on your disease /disorder correlating with your physical and mental capacity. Till the day more than 21,500 patients have been successfully treated in our centers.

Yogacharya Vishwas Mandlik (Rishi Dharmajyoti) with his gifted healing touch, personally treats patients with Resident Medical officers and staff handling other departments of the center.
Program Dates
You can come as per your available dates, short courses for 5 to 15 days are available, patients are suggested to stay for a minimum period of 10 Days. You need to confirm your arrivals with email at least one month in advance with us.
Treatment of Diseases
Patients suffering from diseases mentioned below can be successfully treated.
| | | | |
| --- | --- | --- | --- |
| Obesity | Knee Pain | Acidity | Neck & Waist spondilytis |
| Sciatica | Diabetes | Ulcer | High Blood Pressure |
| Slip disc | Asthma | M.C. Problem | Heart Diseases |
| Backache | Headache | Mental Disorder | Digestion Problems |
Naturopathy Treatment
Steam Bath, local Steam Application, Hot Foot Bath & Tub Bath, Cold & Hot Packs & Mud Packs, Massage & Magnets
Yoga therapy includes...
Easy Yogasanas & Pranayama, Meditation, Omkar Chanting, Yoga Nidra, Shudhikriya(Cleansing Process) etc.
Ayurveda Therapy includes...
Massage, Panch Karma, Cleansing Processes, Herbal medicines
Benefits of Yogasana -
Benefits of Ayurveda & Naturopathy -
Steady & Comfortable Posture.
Raw yet tasty food.
Movements of all limbs & all joints.
Nutritious herbal drink.
Pleasing, Stretching of all muscles.
Easy to digest food.
Massaging of the Endocrine glands.
Effective cure with Panchkarmas, and natural techniques.
Improves the function of Nervous System.
Weight reduction through food management.
Tranquilizing effect without side effect.
Weight reduction through proper digestion.
Feel free to ask if anything else is required, mail us at yoga@yogapoint.com
Hari OM
Fees And Financial Information
Yoga Training -

Yoga Training $ 5/- (Rs. 225/-) for 90 minutes session.
(This includes: Asana, Pranayama, Cleansing practices, Meditation, Omkar Chanting, Yoga Nidra etc. as suggested by our Yoga Expert.)

Ayurveda Panchakarma -

1.

Full body massage $ 12/- (Rs. 500/-) per sitting of 60 minutes.

2.

Swedan (Full body steam bath) $ 12/- (Rs. 500/-) per sitting of 15 to 30 minutes.

3.

Shirodhara: $ 12 /- (Rs. 500/-) per sitting of 30 minutes.(Cost of oil additional)

4.

Local Massage with medicated oil $ 3/- (Rs. 150/-) for single part of the body.

5.

Local Steam fomentation $ 2/- (Rs. 100/-) for single part of the body.

6.

Head Massage $ 5/- (Rs. 250/-) for the period of 30 minutes.

7.

Basti with normal oil $ 1.5/- ( Rs. 60/- )

8.

Basti with herbal oil $ 2.5/- ( Rs. 100/- )

9.

Mud application for single part of the body. $ 1/- ( Rs.50/- )

10.

Mud application for the full body $ 5/- ( Rs. 250/- )

11.

Cabbage steam inhalation $ 1/- ( Rs. 50/- )

12.

Hot foot bath $ 1/- (Rs. 50/-) for the period of 15 minutes.

13.

Hip Bath $ 1/- (Rs. 50/-) for the period of 15 minutes.

14.

Jalabasti ( water enema ) $ 1/- (Rs. 50/- )
Fees can be paid with any of the following ways

1.

Cash Currency - USD $, Sterling £ , Euro €, Canadian Dollar, Singapore Dollar, Australian Dollar, Yen ¥ or
Indian Rupees Rs (INR)

2.

Travellers Cheques or Online payment with Credit Card or Debit card (Visa & Master Card)
Note - Foreign currency exchange is available at request.
Apply Online
Who Should Apply?
Healthy individuals (physically + mentally) with no experience of yoga. Minimum age is 18 years and the maximum age is 50 years. For students over the age of 50 a fitness certificate is necessary.

This course is NOT for someone who is looking for Yoga Holidays or just some Asana practice. This is a full time course for understanding the Yoga Lifestyle & yourself.

Yoga aspirants who want to learn the INDIAN TRADITIONAL YOGA & techniques to teach the same.

If you are expecting modified versions of physical exercises in the name of Yoga then this is not the school for you.

You should apply only if you are willing to follow the rules and regulations of the ashram.


Note - The culture in the ashram is different from a holiday resort or summer camp.
How to Register / How to Apply?
You can fill up the registration form by clicking the link next to the course date. If you can not find the form then please send email to yoga@yogapoint.com or yogapoint108@gmail.com . After acceptance of the form, you will be asked to pay a registration fee (Non refundable). The remaining fee can be deposited when the student comes for the course.

Note - If you do not receive any answer in 7 days, you may call on +91 9822770727


Contact Details
Office
The address of the course venue

Yoga Vidya Gurukul
village Talwade, Trimbak, Nasik
Maharashtra,India.

Address of Institute office in Nasik
Yoga Vidya Dham, Kaivalya Nagari,
College Road, Nashik - 422005.
Maharashtra, India.
Phone - +91-9822770727 (for courses in ENGLISH)
+91-253-2318090, 2575624, 2317454
(For courses, in HINDI or MARATHI)
(Please call during 9.00 AM to 5 PM Indian Time)
E-mail -
yvd@yogapoint.com,
yoga@yogapoint.com or
yogapoint108@gmail.com

Nasik city is 170 KM from Mumbai (formerly Bombay)

Nasik is about 1800 Ft or 580 Metres above sea level.

Regular Trains, Bus Service and Taxi services are available to reach Nasik. We can also provide an airport pickup service directly to our ashram. click for more details



Singapore

Yoga Connections
498 - A Changi Road,
Singapore - 419903
Web - http://www.yogaconnections.com.sg
Phone -+65 6243 9638, +65 9001 9669

Google Map


View Larger Map